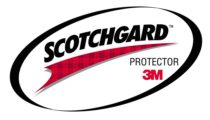 Scotchgard has always been known and trusted for its ability to repel liquid spills and resist soiling. Now it's been improved to offer even better protection. Steampro Carpet Cleaning Springfield, uses only Scotchgard Protector Advanced Repel Technology to provide protection for your investment in carpeting.
Scotchgard™ Protector Advanced Repel Technology surrounds each fiber, providing an invisible shield against dirt and soil. As a result, dirt does not adhere as easily and vacuums up easier. Plus fiber wear from soil abrasion is reduced. From top to bottom, it delivers deep-down protection. Improved repellency increases stain resistance from the most common household spills, keeping your carpet looking good longer.
Keep your home cleaner, fresher, brighter … longer: beading-properties-of-scotchgard
Helps protect against both oil and water based stains
Helps carpet fibers resist soiling
Helps spill blot up before they become stains
Helps stain release more easily when carpet and upholstery is cleaned
Helps carpet and upholstery stay cleaner longer
Effective against fruit drinks, soft drinks and frozen fruit treats and improves vacuuming
Vacuuming is actually more effective with Scotchgard™ Protector. Dirt is more easily picked-up, and fewer passes are required with the vacuum.  Simplifies spill clean-up
Scotchgard™ Protector helps keep spills from becoming hard-to-remove spots or stains. It repels liquids, so spills can be blotted up quickly and easily.  
Professional application
The best time to apply Scotchgard™ Protector is right after cleaning; your carpet cleaning professional can do it for you. Regular vacuuming and prompt cleanup of spills will help maintain the bright, freshly cleaned look for a long time.
Insist on the best. We never use cheaper brands like some other carpet cleaning companies do. Most carpet manufactures of today's carpet insist on you having Scotchgard reapplied after each professional cleaning or risk voiding the warranty that came with the carpet.